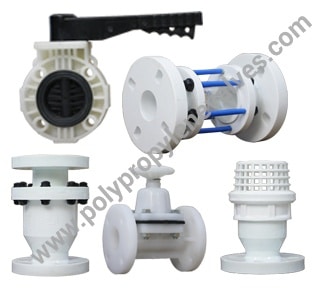 PP Ball Valve Manufacturer
The offered polypropylene ball valve is also illustrious as a PP ball valve in the market, which is specifically designed for altering the stream of water, fluid and different sorts of liquids in residential and industrial pipe and hose fittings. The use of the first rate polypropylene thermoplastic material makes this valve ideal to operate under the corrosive environments too. This PP ball valve is designed precisely and manufactured following the international quality standards, making our range of the ball valve internationally accepted. This polypropylene ball valve is available in standard sizes, specifications, connection ends and each is tested on various quality parameters ahead of launching in the market.
PP Three Piece Ball Valve
The offered PP three piece ball valve is an ingenious piece of work and is praised for the same in the miscellany industries. The valve is made from the polypropylene material, making it ideal for fluid that is corrosive in nature. This three piece ball valve embraces three pieces, two end caps and a body, which all are made from the PP material only, which is available in welded, threaded or flanged end connection as per your need. The replacing of the seats and seals have become an easy task with this three piece ball valve and is a reason for its thriving success in the local market as well as international.
To meet the flange end requirement of the diverse industries, especially industries associated with the petrochemical industry. The entire unit is made from the polypropylene material, whilst the design is carried out as per the industry set benchmarks. The offered PP ball valve with flange end entitles easy interfacing of the pipes, pumps and other equipment form a leak free piping system. The offered pp ball valve with flange end can be welded or screwed as according to the end user needs, which we made available in the varying details at the best prices in the market.
The introduced PP industrial ball valve is the outcome of our ability and endeavors to bring forth a truly outstanding range of the industrial ball valve that can provide more flow at lower pressure drops than traditional ball valves. The quality controlled procedures and utilization of the premium quality polypropylene material convey all the advantages that industries look for while choosing ball valve. This PP industrial ball valve is appropriate for the vacuum pumps, gas system, water system and comparative applications, where low head loss is enviable.