Polypropylene Valves Manufacturer & Supplier
Experience the corrosion free and clog free fluid processing by investing in the polypropylene valves, made from the international quality thermoplastic (polypropylene) material. Our polypropylene valves do not corrode and hence resolves all the problems caused by corrosion, like jamming, freezing, blocking, etc. A valve is a substantial contributor when it comes to the success of the fluid processing industries as it performs the imperative function of flow stopping, starting, throttling and enacting as non return check throughout the processing operation and to make your venture seamless, we introduce an international quality range of the polypropylene valves with socket, threaded or flanged connections. The offered valve is made from a top grade polypropylene material and therefore our entire collection of the polypropylene valves bags you enormous benefits that metal valves do not.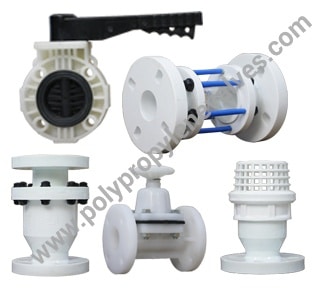 Excellent resistance against corrosion
Excellent resistance against chemical
Excellent resistance against abrasion
Uniform surface inside walls
Light weight to high strength ratio
Easy to install in just short time
Longer life expectance
A low price makes it cost effective
These advantages of our polypropylene valves have influenced its use in the commercial and industrial applications; where metal is unsuccessful incorporating wastewater treatment, water distribution, chemical processing, food processing, pharmaceuticals, oil refineries, petrochemical processing, power plant, etc. The polypropylene valves material used in the construction has the highest chemical resistance property and therefore performs outstandingly while contacts acetic acids, hydroxides acids, salts, alkalis, or any other organic chemicals and thereby our valves make them good for chemical industries. We have made this valve available in an extensive range to meet varied size, design, functional and operational requirement of the end user. Further, we can customize the polypropylene valves as per the customer requirement at the best prices in the market. Our every manufactured valve undergoes stringent quality checks ahead of leaving the factory and seamless quality of the valve is guaranteed.
Polypropylene Valve Range
Reasons For Polypropylene Valve Over Metal:
The cost of the polypropylene valve is comparatively lower than the valves made from metal
The light weight of the polypropylene valve apparently slashes the cost to install, freight, unlikely to metal
The excellent corrosion resistance of the polypropylene material reduces maintenance cost and provides longer service life over metal valves
The polypropylene valve is almost ½ to 1/3 lighter from the metal valve and therefore installation has made easier.
The thermoplastic material has low thermal conductivity and hence qualified to withstand high temperatures without cracking.