The offered PP foot valves are the combination of the check valve and training equipment, designed to regulate pressure in the plumbing system at the same time eliminating solids which are a common cause of jamming in the several processing systems. As the name implies, the offered foot valve is contrived using the polypropylene material and henceforth is the best bet for the industries dealing with the corrosive fluids. The defined construction and quality controlled manufacturing has entitled us to obtain a truly immaculate range of the PP foot valve that performs tremendously all through its life expectancy. This valve is available in manifold dimensions and also in the custom made specifications at the most competitive rates in the market.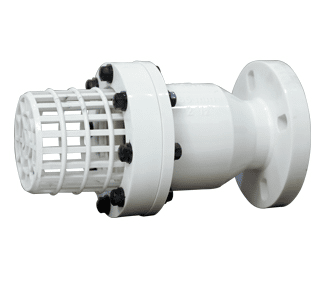 Our PP foot valve with screw end connection is aimed to meet the requirements of the different industries looking for the tight end connection. This PP foot valve comes with the female pipe threads to match with the tapered threaded pipe or other equipment, making the range adaptable for any type of screw end connection need, suitable for the connection of the pipes, pumps and other piping system equipment. The offered PP foot valve with screw end connection is available in assorted specification and also as per bespoke specification at the best costs in the market.
The introduced PP foot valve shares threaded end connection, is one of the conventional connections used in the piping system. With the years of expertise in the allied domain, we have carried out precise threaded end connection that makes your fitting job easy and fast and for the same our PP foot valve with the threaded end connection is praised all across. This type of PP foot valve we recommend for the low pressure piping system, which we can provide in manifold dimensions as per your application requirement. The complete structure is of the polypropylene material and hence corrosive fluid is not a constraint for our range of PP foot valve, available at the lowest possible price in the market.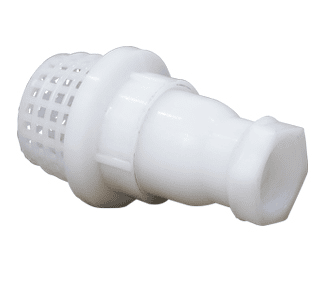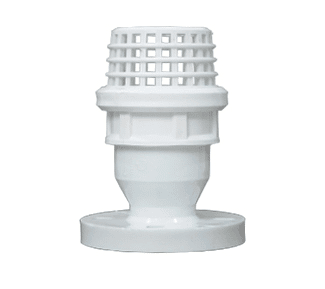 This is the PP foot valve with a flange end connection, is configured as per the international quality guidelines in order to deliver the highest quality range of the PP foot valve that best fit with various pipes, pump and other piping system equipment. The different configuration of flange end is available upon customer request, including neck flange, socket weld flange, threaded flange, blind flange, lap joint flange and slip on flange, etc. The standard size of the PP foot valve with flange end is available in ready to ship condition, whereas the specific size of the same is available within a shortest possible time.